Jeannie's love affair with fitness began on the dance floor. In 2007, she started taking classes with Doonya — a Bollywood dance company. Jeannie loved the fun cardio workouts so much that she became one of the first instructors for their fitness offshoot. Now, she's a master trainer.
Jeannie took her first barre class a decade ago in Los Angeles and was immediately hooked. She helped bring Barre Above training to DC (at MINT!) so she could become certified.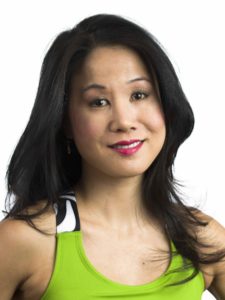 Barre classes generally include small, pulsing movements that focus on muscle endurance with high repetitions and low weights. At MINT, Jeannie's classes start with a standing warm-up and core activation. Then, they move to the barre and center floor for an all-body workout designed to build strength, flexibility, and balance. Class ends on the mat with core work and a nice stretch to get you ready to conquer the rest of your day! 
MINT Barre classes are hybrid, meaning she offers options with props at the gym or items you may have at home. Each class is both challenging and designed to leave you in a better mood (when you're done silently cursing at the instructor during tough pulse segments!)
Jeannie loves that her group fitness classes provide a great way to stay active and build a sense of community. She's had clients who met in class and ended up in each other's bridal parties!
Outside of her own classes, she has used Braegan's morning virtual MINT Flex and Power Playground to get through the pandemic. They are challenging, creative, and smartly designed. She also attends Myke and Shenandoah's classes to round out her routine. She especially loves outdoor Power Playground on the Marie Reed Field to enjoy beautiful weather during a workout.
Jeannie still teaches Doonya regularly and is looking forward to the return of regular indoor classes and high fives.
You can take virtual or in-person MINT Barre with Jeannie regularly on Tuesdays at 7:15am.
Interested in becoming a MINT instructor? We're currently hiring! Check out this blog post for more information.