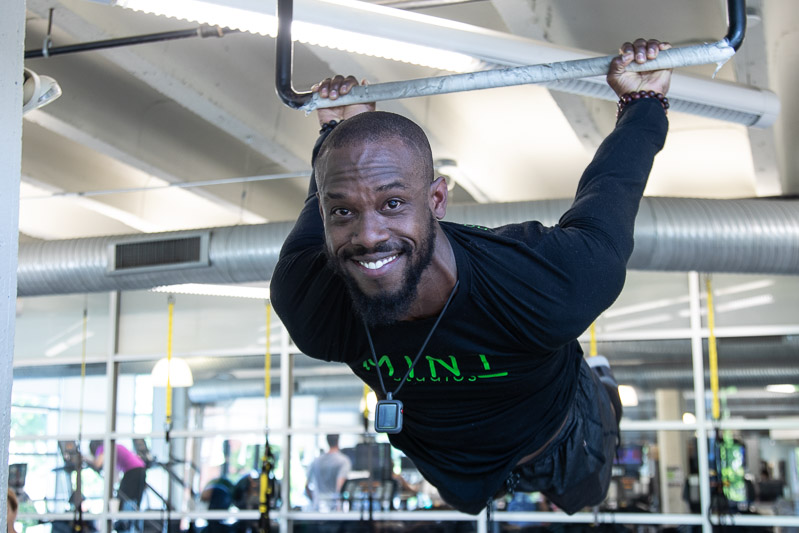 Meet Myke Nicholson, June's Instructor of the Month at MINT! Myke describes himself as goofy, focused and friendly. You can find Myke teaching Power Playground, MINT FLEX, or MINTBox at our 14th Street Studio.
Since childhood, Myke has enjoyed an active lifestyle whether it was live-action Dragonball Z demonstrations with his cousins, pickup basketball games with his neighborhood friends or any sporting activity he could get involved in at school. However, he didn't take fitness seriously until high school when it became an escape from bullying for him. The bullying Myke endured led him to become suicidal, depressed and passive-aggressive. He then began working out and "fighting" against the weights in the gym became his escape, his way out from the bullying. He transitioned from "Nicholson" into "MuscleHead Myke" and the bullying stopped doing once his peers saw his work ethic in both school and the gym. This led him to find a new sense of self-respect.
When asked what his favorite part of teaching was he responded with "…well teaching!" He enjoys designing workouts that challenge members both mentally and physically almost as much as he enjoys working with them through it. Coaching others to improving their health is rewarding, not because it makes him feel better but because he enjoys making others smile and feel stronger and sexier in their skin.
When he's not at MINT or training, you can find him spending time with his wife, 8-year-old son and soon-to-be-born son at home. He's all about balancing his high-energy times with more peaceful times.
Learn more about MINT and all of our classes and instructors online today, www.mintgymdc.com