We are OPEN!
Why MINT Studios?
The heart of MINT has always been signature high intensity classes: Power Playground, MINT Cycle and MINTFuze. Our classes give you the opportunity to try a variety of different workouts, at varying levels of intensity. MINT Studios offers you more intense classes, more frequently, taught by high quality instructors.
MINT Studios is the first fitness option in Washington D.C. to offer memberships that include access to BOTH fully equipped health clubs and a class based studio. Why? We want to provide you with all of the resources you need at one place, giving you the opportunity to fully customize your workouts; take a class or just drop in for cardio and weights. We understand that fitness goals vary from person to person, and there isn't one workout, class, or schedule that works for everyone. MINT Studios allows you to fully personalize your fitness journey without having to go anywhere else!
Now you can finally enjoy even more of our amazing Power Playground classes and next-level indoor cycling with 'Coach by Color' technology at the studio while still having access to all of our classes including barre, yoga, Pilates, Zumba, WERQ, and Piloxing at both our Downtown and Dupont locations.
Clubs + Studios: 
$198 per month
Access to all 3 facilities + all classes
High Intensity Classes
Power Playground
HIIT
Much like its inception, this class is designed for peak cardiovascular performance and ultimate caloric and "after burn" effects. 10-15 circuits with cardio bursts built into the class. Avg. Caloric Burn 400-800 Calories.
Burn (Advanced)
MINT's toughest and most challenging class combines the use of power, strength and stability for peak caloric burn. Not for beginners, this advanced class peaks the curiosity as well as challenges the mind and body. Avg. Caloric Burn 600-1200 Calories.
Athlete
Designed for the sports athlete in you! Performance, technique and agility are incorporated in these workouts. A slower methodical approach to calisthenics is used to ensure optimal conditioning.
TRX
This boot-camp style class features bodyweight suspension training alongside weighted elements like medicine balls, kettlebells, and free weights. These block formation classes include reps and sets that are timed.
MINT Cycle
Coach By Color
State-of-the-art indoor cycles combine striking, award-winning design with an enhanced digital experience. The Coach By Color intensity guide, WattRate Power Meter and connectivity to external devices provide encouragement and engagement, and make the indoor cycling experience unlike any other.
MINTFuze
Get everything you need with one challenging, total-body workout. MINTFuze is our signature class mashup that combines cycle and Power Playground. These two formats come together in perfect high-intensity training harmony in this fusion class. Start at either Cycle or Power Playground and switch half way through the class. The workout will be intense, physical boundaries will be challenged, and results are a guarantee! All levels are welcome as modifications or advancements are always offered.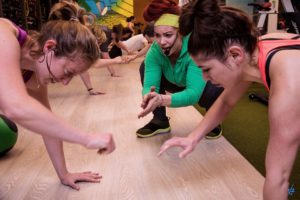 Quality Instructors
Our MINT Studios instructors were hand-picked to join the team. Every one of them are experts in their field and have profound knowledge and experience in the fitness industry. All of our instructors have such diverse backgrounds, offering you different types of workouts . Get to know MINT's finest!
Get To Know Our Team
Hours Operation: M – F 6am – 9pm, Saturday 8-2pm, Sunday 9-2pm