Professional, meet professional.
Just as you would be choosy over hiring any professional, a trainer is no different. MINT has the most rigorous hiring standards of any gym or studio in the DC metro area. Our trainers have four-year degrees or 10 years minimum experience, and all hold advanced nationally-recognized certifications. No weekend certifications here.
Our Trainers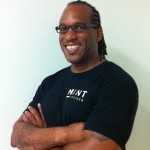 Chris Barnes
Master Trainer
---
Chris is a native Washingtonian who began an athletic journey at a very young age, participating in a variety of sports i.e.; baseball, basketball, football, and track. He joined the United States Marine Corps right after High School. While serving he was introduced to powerlifting where he began competing as a powerlifter under the USPLF. Chris retired from the District Government after serving (29) years, approximately fifteen of those twenty-nine years he moonlighted as a Personal Trainer in various facilities in the DMV. He's always had a strong ambition with human anatomy and its function. He was able to embrace that passion and apply it to help others achieve their fitness goals.
Chris's philosophy is functional training. He believes that the muscular system is an independent system that works best when trained together.
Wellness is a lifestyle that shouldn't seem like a chore but, fun, exhilarating & enjoyable!
Training & Certifications
National Personal Training Institute (NPTI) Basic Nutrition
National Academy of Sports Medicine & GPTS (NASM)
Rotational Motion Training (RMT Club)
CPR First Aid AED
Enrique Flores
HIIT (MINTKick, Cardio)
---
Classes: MINTBox, MINTKick, Personal Boxing Coach
Enrique Flores is current mixed martial arts fighter, fighting at both the featherweight division (145) and the bantamweight division(135). Throughout his career , he competed numerous international freestyle wrestling competitions under FILA International wrestling federation and brazilian jiu jistu competitions under the IBJFF & U.S Grappling. Then 2016 he competed in the 2016 U.S Open Men s Freestyle wrestling competition to try earn a spot for the U.S Olympic Trials but came short in 10th place. Enrique passion for fighting, made him want to coach others in boxing or kickboxing. So then he earned his Boxing Coach's Certification under USA Boxing, license as amatuer boxer & FILA/ USA wrestling license international wrestler. He believes that everyone should have a great experience learning boxing or kickboxing and you'll experience whats like to train like a real fighter without the fight.
Rasean Madden
HIIT (PP, TRX), Master Trainer
---
Rasean has been training in the DC area for twelve years. Before starting a career as a personal trainer, he spent over 10 years training in the martial arts. Prior to coming to Mint, Rasean worked for other fitness companies training clients, and teaching boxing, and kick-boxing classes, as well as one-on-one self-defense instruction. Rasean is a NASM certified personal trainer, and Cancer Exercise Specialist , who believes that form and technique is far more important than how much weight you're pressing. He also believes that your workout should be functional and help you in your everyday routine, and in the power of healthy living for a good life.
The Cancer Exercise Specialist is a professional qualified to assess, design, and implement individual, and group exercise programs for individuals diagnosed with cancer. The CES evaluates health behaviors, and risk factors, and modify negative health habits, in order for the client to reach more robust health with positive lifestyle management. The CES has a complete understanding of the entire cancer process from diagnosis to treatment, recovery, and prevention of lymphedema, and contraindications.
Michael Carbajal
HIIT (PP, TRX), Trainer
---
Michael has a degree in Exercise Science from Montgomery college and is certified with the American College of Sport Medicine. He also has training in functional rehabilitation, massage therapy , an exercise training method for stopping chronic pain. He has worked for several years with Sports & Physical Therapist in Washington DC Area.
James Parker-Ashley
HIIT( PP, TRX, AGE 4 ACTION, BOOTCAMP), Master Trainer, and Master Nutrition Coach
---
My love for fitness began at a young age. More likely than not I was one of the only kids in the state of North Carolina that asked for a weight lifting set for his 10th birthday. Throughout my life I've always been an active person and having a strong interest in playing several different sports such as soccer, football and basketball. Over the years I've even began to pick up tennis both competitively and leisurely. I will always be an athlete at heart.I've been in the fitness industry for the past 3 years and have loved every minute of it. I enjoy using the the kinesiology degree I earned from the University of North Carolina at Greensboro to improve every life that I come across. I have had experience working with clients from ages 7-93. My goal is to live a life where I am able to show people what they are truly capable of and to encourage them to be the person they didn't even know they could become.
Certifications: Bachelor Degree in Kinesiology, ACSM-CPT
Specializations: Strength and conditioning, weight loss, core strength development, balance and coordination, flexibility, athletic training
Timea Presley
Master Pilates Instructor
---
Timea Presley is a Washington DC based Pilates Teacher Trainer and Advanced Level Instructor (STOTT) with more than 17 years experience teaching and managing Pilates programs and studios across Europe and the US. She specializes in post rehabilitation conditioning and Pilates for former dancers. Her extensive experience with Pilates, dance and yoga creates a dynamicly flowing style with attention to balance between strength and flexibility.
Timea leads her Comprehensive 500 hour Teacher Training Program that is included in the Pilates Method Alliance (PMA) registry of schools.
She is also a fully certified advanced level STOTT Pilates Instructor, Post Rehabilitation Conditioning Specialist, Yoga Teacher in the Shivananda tradition and Barre Instructor. She has taught more than 20,000 hours of private and group classes in the studio environment, luxury health clubs, dance schools and corporate facilities.
Washington Ballet's Senior Faculty Member, Kristy Windom called her "a creative teacher, who provides a safe place to explore a side of Pilates that few understand."
Timea studied at the Budapest Contemporary Dance Academy, Dance Academie Balance 1 Berlin and Freie Universität Berlin. As a professional Modern and Contemporary Dancer her physical training included amongst others Ballet, Pilates, Jazz, Improvisation, Contact Improvisation, Graham Technic, Cunningham Technic, Limon Technic, Folklore Dance, Tai Chi, Qi Gong, Gyrotonic, Gyrokinsesis and Alexander Technic.
Timea's involvement in managing studios and Pilates programs started with founding and operating her own Soma Pilates Studio in Berlin. After her move to the US she has held roles as Studio Direktor at DC Yoga, Pilates Studio & Program Director, Head Pilates Instructor and Mind Body Program Director at MINT Health Club & Studio in DC.
Timea taught as guest faculty at the Washington School of Ballet and has been guest teacher at the Smithsonian, World Bank, IMF, FBI, government organizations, health clubs, studios and conferences.
Timea's training through STOTT Pilates has included courses such as Pilates programming for managing osteoporosis and scoliosis, breast cancer rehab, athletic conditioning, stabilization and Function of the knee, Prenatal Pilates on Reformer, Cadillac and Stability Chair, Optimization of the Lumbopelvic Region, Optimization of the Shoulder Complex, Principles of Stabilization, Postural Analysis, The 5 Pilates Basic Principles Explained, Athletic Conditioning on Stability Coushions, Jumpboard Intervals, V2 Max Plus Programming, The Reformer and the Padded Platform Extender.
To study the mind body connection and yogic diet Timea lived in a Bhakti Yoga Ashram in Colorado and enjoys incorporating the practices she learned into her daily life in Washington DC.
Mary Dorsch
Master Trainer and Master Nutrition Coach
---
Mary has been training at MINT since 2014, and she trains clients at both DuPont and downtown locations. She is certified through the National Academy of Sports Medicine and focuses on creating individualized programs for clients based on their unique needs and fitness goals. She enjoys helping people push past their self-imposed limits and inspiring them to be the best version of themselves. She motivates clients to challenge themselves, concurrently remaining attentive to any limitations or muscular imbalances that need to be considered. As a personal trainer with a passion for motivating people to stay active, Mary strives to change people's perspective on fitness. When she's not working, she enjoys cooking, weightlifting, or furthering her education.
Agnieszka Antczak-Chung
---
Agnieszka grew up in Poland and moved to the US in 2001. She has masters degrees in music and performing arts, specializing in viola, and teaching violin and piano. She also holds a BA in music therapy and was originally interested in stretching movements to release tension from hours of practicing instruments. Her first Pilates experience came more than a decade ago when Agnieszka sought out a physical training program with movement. After a break to take care of her new-born twins she continued with Yoga training in 2009, becoming a certified Yoga instructor. About four years ago she began investigating Pilates because she began discovering how the body works and realized Yoga was not enough for her. She completed a Power Pilates course and in 2014 found out about the Boulder, Colorado world-renowned Pilates Center, enrolling in the official certification program. Agnieszka likes to apply the skills she acquired as a music specialist – focus, persistence, dedication, willingness to embrace daily practice and giving oneself the time to grow towards mastery, consistency, coordination and engaging the full body in learning. 'The benefits of Pilates are indescribable – it is really about learning how a healthy body moves and as we get older it gives the energy to take on life's daily challenges, in work, family and home life,' she says.
Laura Saltzer
Personal Trainer
---
Laura is a passionate fitness professional with a love for strength training. She earned her personal training certification in 2019 through the American College of Sports Medicine (ACSM). Laura's goal is to help each of her clients feel their best and accomplish whatever goals they've made for themself. She's able to achieve that by focusing just as much on emotional and mental wellness as physical. It's important to Laura that she creates spaces in the health and fitness industry where people feel safe and welcome no matter their level of experience or ability.