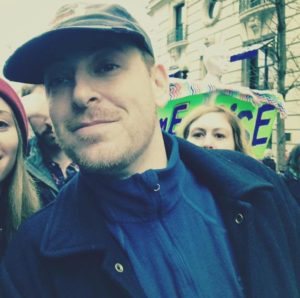 How has your experience been with MINT?
I talk A LOT about how much I love MINT. It's a great gym, with great staff, and I feel happy when I'm here. I've had a lot of firsts at MINT like my first workout class and my first 10k run. I like sharing MINT with friends, meeting new people in my classes, and also just being here alone with my thoughts. Compared to other places I've lived, DC can sometimes feel very cerebral like we're all brains walking around detached from our bodies. I like MINT because, like a nice hike or a swim, being here engages all my senses and makes me feel at home in my body.
Fitness goals and how you have started working your way towards them?
I don't have any specific fitness goals that immediately come to mind. I guess like everyone I want to feel good and look good. When I was a kid, I wanted to play in the NBA, but adulthood is different because I unfortunately have less time for delusions. It's nice though to still feel connected to my NBA dreams by pretending I'm training for the championship or something. I guess my abstract fitness goal is to remain connected to that youthful feeling of coming home from school with a ton of energy and spending all afternoon running and jumping around the neighborhood with friends. The group fitness classes remind me of that feeling, and I work towards my goal by attending as many classes as I can.
Classes you like?
Plyofit, TRX Bootcamp, Power Playground, and FLEX-Upper Body.