Functional fitness that utilizes minimal equipment.
Appropriate for all levels, TRX suspension training is a creative, total-body workout for the purpose of improving functionality, mobility, strength, and cardio.
TRX Power Playground
This boot-camp style class features bodyweight suspension training alongside weighted elements like medicine balls, kettlebells, and free weights. These block formation classes include reps and sets that are timed. *Only offered at MINT Studios.*
TRX Bootcamp
Looking for a fun and dynamic class? Our challenging TRX Bootcamp classes will help you improve full-body strength through various body-weight, functional exercises in a circuit-style class full of camaraderie and fun.
TRX Senior
At MINT, we know some things get better with age. Our TRX Senior class is designed for people 60 and over. This class will improve strength, balance, and coordination.
TRX Pilates
Take your Pilates practice to the next level! This class incorporates the principles of Mat Pilates with TRX suspension training to help students develop greater strength, balance, flexibility, and core stability. All levels welcome!
TRXcore
Get a full-body workout but pay some extra attention to your core with a TRXcore class. You'll feel this one all over, but the TRX is implemented to target the mid-section.
---
TRX Team Training is included with studio-class access, or can be attended as part of our class package program.
---
Meet our instructors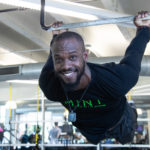 Myke Nicholson
HIIT (PP, TRX), Box, Master Trainer
---
Classes: Power Playground Athlete, MINT Fuze, Personal Trainer
Myke describes himself as an athletic artist who enjoys challenging his body and mind in creative ways. He enjoys guiding his clients to their own fitness victories. As a NESTA-certified trainer and TRX-certified instructor, Myke has spent his 11+ years in fitness training using a combination of weightlifting, calisthenics, strongman and MMA to help his clients to achieve their fitness goals. Myke is a force amplifier who enjoys helping others rise above their current level of health, as simple as a 1% increase every day.