July 2017 Newsletter from Intensity Director, Liz Harvey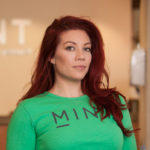 Message from the Director
Dear Members,
I trust that your summer is off to a wonderful start! July brings hot weather, fun in the sun, pool parties and of course travel. When you're not busy traveling and summer grilling, we have a plethora of classes in the Intensity department I encourage you to try. Personally this month is very special for me as I celebrate two years working with MINT (and it's my birth month!) It's been a tremendous privilege to share a wealth of knowledge and my passion for fitness with you. I extend a very sincere and heartfelt thank you to all of my incredible instructors as well as the members who have made this department a thriving success. During my brief time at MINT I've seen and designed many changes; MINT Boot-camp once residing in the Main Studio now outdoors, Power Playground's continued brand success in both clubs, to the renovation of an Intensity Studio from the gym floor, and most recently the launch of MINT's first studio. Speaking of the new studio on 14th street, I could not be happier to lead the new expansion along with fellow rockstar instructors late summer. More news to come in the following months so please stay tuned!
So Why Intensity, You Ask?!

In order to understand the "WHY", perhaps it's best we dive into the question of "WHAT" first. You've probably heard many different acronyms during peak hours of the gym like: HIIT (high intensity interval training), HIRT (high intensity resistance training), AMRAMP (as many rounds as possible), and EMOM (every minute on the minute). These interesting and weirdly sounding labels are some of the foundations for many if not all Intensity classes. Intensity, as it applies to fitness, includes the use of power, force, strength, agility and endurance in a workout. As instructors we often use methods of time, reps, and sets to gauge performance and programming in our workouts. Not all workouts are created equally, which makes the intensity program and it's instructors VERY unique. All MINT instructors design their workouts specifically for optimal performance and results. So how does one choose which class to take?
How to Choose the BEST workout for you?

Power Playground: MINT's signature and most popular multi-circuit class highlights a variety of strength and cardio elements. All circuits within the class are timed so that the focus is endurance. Power Playground has become a brand of it's own, so much that we have developed a list of Playground sub classes.
– Power Playground TRX: this boot-camp style class features bodyweight suspension training alongside weighted elements like medicine balls, kettlebells, and free weights. These block formation classes include reps and sets that are timed.
– Power Playground HIIT: Much like it's inception, this class is cardiovascularly designed for peak performance and ultimate caloric and "after burn" effects. 10-15 circuits with cardio bursts built into the class.
–Power Playground Athlete: Designed for the sports athlete in you! Performance, technique and agility are incorporated in these workouts. A slower methodical approach to calisthenics is used to ensure optimal conditioning.

– Power Playground BURN: MINT's toughest and most challenging class combines the use of power, strength and stability for peak caloric burn. Not for beginners, this advanced class peaks the curiosity as well as challenges the mind and body.
PLYOFIT: PlyoFit takes Plyomentrics or dynamic power bodyweight movements to new heights with tabata intervals! Think 30 to 45 seconds intervals with short 10-15 second breaks. Explosive shortening and lengthening of upper and lower body muscle groups. This workout will provide a challenging cardio total body workout.
TRX BOOT-CAMP: TRX suspension training, a challenging strength based class and one of the best forms of function fitness while utilizing minimal equipment. Our TRX instructors design creative total body workouts for the purpose of functionality, mobility, strength and cardio.
TRX SENIOR: Exclusively designed for 50+, This class will improve strength, balance, and coordination.
OUTDOOR BOOT-CAMP: Outdoor Boot-camp meets at Marie Reed Field across from the DuPont location. Open for all athletic abilities and ages. Instructors creatively design a variety of total body circuit moves across the field.
MINTPump: Kick the Cardio for a moment and focus on muscle conditioning. Strength based class that utilized free weights, bars and steps for a total body workout. Slow controlled movements to help build deep muscle tissue. Focus on the toning and tightening the body and results will amaze.
MINTCore: MINT's shortest class, only 20
minutes focuses solely on upper/lower and lateral abdominal movements.
How to Incorporate Intensity into Your Routine?
So now that you have an idea of what we offer, WHY is incorporating Intensity into your routine important, simple! Constant shock to the body yields better and faster results. Whether building muscle, maintaining or losing fat; a combination of these classes coupled with a variety of cycle, barre and yoga continuously keeps the body and mind engaged. If you're new to strength and intensity training, then I suggest 2x/week. If you're aiming for results oriented fitness goals, as mentioned above, then I suggest 3 or more times a week.
Tracking Your Performance 

In addition to attending class, we also have ways to monitor peak performance in the Intensity Studio, called PIQ. PIQ is MINT's complimentary heart rate monitor system offered to all members calculating heart rate during performance. Why is this important? Colored zones represent a variety of fitness levels. These zones indicate performance output and calories burned. A fantastic way to gauge your daily and monthly caloric output. Zone performance is also important in identifying nutritional needs as well, by calculating one's daily caloric burn, one can identify their appropriate daily calorie intake and outtake. I challenge you to incorporate these classes into your summer routine. I can assure you won't regret it, see you in class soon!
Happy Training, Liz Harvey